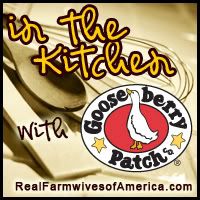 So as you can tell by some of the pictures I have quite a few recipes marked in this cookbook - I tend to pair things up that sound good together and then make them both for a whole new meal! As I was marking recipes Bacon-Stuffed Burgers sounded good and the recipe for Hot German Potato Salad sounded like a perfect match!
Who wouldn't want a burger that was made of ground beef, sausage, A-1 and some parm then stuffed with bacon and onion - really simple and quick!
Put a spoonful of this Hot German Potato Salad beside it and it makes a perfect meal!
I fried up enough bacon for both recipes then removed enough for the potato salad then put the onions in the bacon grease and sauteed them for the burgers! When a recipe calls for crispy crumbled bacon I always cut my bacon up into bite-sized pieces and fry them that way instead of cooking the whole stripes and then crumbling!
I love it when recipes share a similar flavor together at a meal - plus I can do things once (like fry the bacon) for both recipes!
While the whole potatoes for the potato salad boiled, I pattied out the burgers and "stuffed" them!
I cut the potatoes up while the burgers were on the grill and made the dressing!
It was a big hit - even My Cowgirl (who one might call a finicky eater-I just call her picky) even liked it - I am not a big fan of the flavor of vinegar but this was not overbearing like I was afraid it might be!
And another 5 thumbs up for both (so that is a total of 10 thumbs!) of these
Gooseberry Patch
recipes!
Bacon-Stuffed Burgers:
4 slices bacon, cooked and crumbled
1/4 c. onion chopped
4 oz. can mushroom pieces, drained and diced
(I omitted because we aren't mushroom people)
1 lb. ground beef
1 lb. ground pork sausage
1/4 c. grated Parm. Cheese
1/2 tsp. pepper
1/2 tsp. garlic powder
2 T steak sauce
Hot German Potato Salad:
6 potatoes, boiled whole until tender - about 20 min
1 lb. bacon, cooked and crumbled
1 1/2 c. onion sauteed in bacon drippings
dressing: 1c. plus 2 T vinegar, 1 1/2 T sugar, 1 1/12 tsp salt, 1/4 tsp pepper bring to boil
- cube potatoes, mix with bacon and onions and pour dressing over and serve!