Fire pit weather - why didn't mother nature answer me when I asked for some rain for the crops the last 2 month's?
Saturday we started our hunt for our new "show string" sporting shorts, flip flops and tank tops! On Monday when we went on another trek we were having to wear jeans, boots and sweatshirts, today's high was supposed to be 74 it got to a whooping 62 with a constant wind - so nothing sounded better tonight than chili! Which I made with some fresh tomato juice - I am not a canner (that is a whole other post) but the chili I made tonight with the fresh tomato juice might make me change my mind - might being the key word!
Anyway I had marked this recipe in my
Gooseberry Patch
Church Suppers cookbook,
it was a super easy, super fast recipe, really delicious and perfect with tonight's chili!
Basically you dumped all the ingredients into a bowl
mix it up real good
put the batter into the muffin tins - the recipe said it made 1 1/2 dozen, I had plenty of batter for 2 dozen,
cook them in the oven and serve them - very simple, very easy!
So there you have it - we are 1 recipe closer to giving one lucky person a copy of Church Suppers!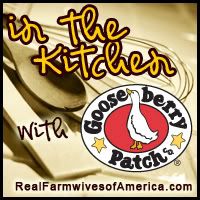 Our Family's Corn Muffins
1 3/4 c. yellow cornmeal
2 1/4 c. all-purpose flour
1 c. sugar
8 tsp. baking powder
1 1/4 tsp. salt
2 eggs
2 c. milk
3/4 c. oil
In a large bowl, combine ingredients in order listed; beat until well blended. Fill greased muffin cups 2/3 full. Bake at 425 degrees for 15 minutes, or until a toothpick tests done. Makes 1 1/2 dozen.