Here we go with
Gooseberry Patch
recipe #9 from
Church Suppers
!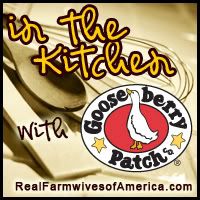 So the other day we had one of those extremely busy days, you know one that at the end of the day when you sit down you know you have been on the move all day but you can't remember what all you had done - and then a kid or your husband says those dreaded words "What's for supper?" - well that was the day I had had - I won't lie - I panicked a little - but then remembered that I had marked this recipe and had sausage (
Campbell Grain & Livestock
sausage) thawed out!
I don't have any pictures, I was fighting off 3 kids and Chris with my feet and cooking with my hands - just be thankful it wasn't the other way around - but this recipe is so simple you won't even miss the pics!
Tuscan Soup
1 lb. ground pork sausage
3/4 c. onion, diced
1 slice bacon, diced
1 1/4 t. garlic, minced
2 T. chicken bouillon granules
4 c. water
2 potatoes,, halved lengthwise and cut into 1/4 inch strips
2 c. kale, thinly sliced
3/4 c. whipping cream
Brown sausage in a large pot over medium heat; drain and set aside. Add onion and bacon to pot, cook over medium heat until onion is almost translucent. Add garlic; cook for one minute. Add bouillon, water and potatoes; simmer for 15 minutes, until potatoes are tender. Stir in kale, sausage and whipping cream; heat through over low heat without boiling. Serves 6 to 8
Things I learned making this recipe:
1. Kale is in the cabbage family and not very common in Franklin Indiana - so really any green leafy thing will work!
2. 1 slice of bacon????? REALLY??????? Use your own judgement - 1 is not nearly enough especially when you consider the grabby hands that will be wanting some before supper is ready! Are we the only family who eats bacon as a snack - no joke - my kids fix bacon after school for their snack!
Update: I made this soup again tonight for supper, I came in from the barn at 6pm and had the soup ready by 6:45 - and that included thawing out the sausage too!